Professional
Hannover, Hamburg, Göttingen, and Oldenburg
SAP ALM Consultant - Change & Release Management in SAS Application & Solution Advisory (f/m/d)
Hannover, Hamburg, Göttingen, and Oldenburg

Please apply here on "IThanse.de" with the "Apply Now" link/button at the top right.

SAP ALM Consultant - Change & Release Management in SAS Application & Solution Advisory (f/m/d) Full or part time
Empowering you – to break new ground!
As part of the global NTT DATA Group, one of the world's most successful IT service providers, we are specialized in value-added SAP solutions as NTT DATA Business Solutions. Our clear focus lies in the areas of SAP Consulting, SAP Development, Managed Cloud Services and Application Management Services (AMS) & Technology. We support our customers worldwide in their digital transformation - from A to Z - on their way to becoming an intelligent company.
OUR COMMON RECIPE FOR SUCCESS: DIVERSITY, OPENNESS, RESPECT AND TOGETHER.
People are and will remain an important part of this mission. In everything we do, they play the decisive role. That's why we are always on the lookout for talents who can actively strengthen us.
A key factor in our success story is our open corporate culture and the diversity of our employees. 11,500 employees from 64 nations in over 30 countries show that diversity is an integral part of our DNA and that we live diversity, tolerance and respect every day. We are convinced that it is exactly this diversity that leads to productive results and that we benefit from it as a team as a whole.
ARE YOU READY TO BREAK NEW GROUND?
Location: Dresden, Berlin, Germany-wide
That is what makes us special:
■ Team-oriented corporate culture, collaboration as equals and steady knowledge transfer
■ Family-friendliness (e.g. monthly subsidy for daycare costs, partner of AWO lifebalance, paternity network)
■ Diversity & Inclusion (e.g. various initiatives & communities)
■ Flexible working hours, part-time models, mobile working - location-independent working (e.g. home office)
■ Individually tailored onboarding program including a mentoring program and sustainable career support with our career model
■ Inhouse Academy with a variety of professional technical training, soft skills training, SAP Learning Hub and certification opportunities
■ 25% employer contribution to the company pension scheme as well as other attractive pension offers (e.g. lifetime working account)
■ Company health management (e.g. occupational medical examinations, workplace glasses, company-internal vaccination offers, company gym and cooperation with fitness providers at favorable conditions)
■ Bicycle leasing via JobRad®, employee discounts via corporate benefits, and much more
■ Wide range of events (team events, employee parties, internal sports tournaments)
Do you love challenges?
We are a sworn team of top-class SAP consultants who advise our global customers from a wide range of business sectors on their IT processes and realize implementation projects. New colleagues appreciate our individually tailored induction, the flexible organization of our daily business and the free opportunity to travel internationally. Feel free to join our coffee breaks.
■ You support various projects in the area of change management (change and release management). You develop and design customized solutions, present them at different hierarchical levels and are responsible for their implementation.
■ Heterogeneous landscape architectures are playing an increasingly significant role. You learn about the challenges of complex SAP and IT infrastructures and how to overcome them.
■ Whether agile or classic project methodology is irrelevant to you. You have gained initial experience with both methodologies.
■ You will use the tools "SAP Solution Manager" or "SAP Cloud Application Management - CALM" to implement global consulting projects as part of a team.
Convince us with your potential
■ You are a structured team player with good analytical and conceptual skills who works very independently.
■ You are familiar with Application Lifecycle Management and SAP Solution Manager.
■ You already have ITIL knowledge in the environment of the transition and operation phase and have already been able to gain experience in consulting and implementation projects in this subject area.
■ Occasional travel at home and abroad is no challenge for you.
■ You have a good command of German and English.
Apply now!
We look forward to receiving your online application including your desired location, salary expectations and earliest possible starting date.
Get empowered by NTT DATA Business Solutions!
Theresa Petra Frömmel 
Tel.: +49 173 3227097
E-Mail: careers-solutions-de@nttdata.com
We transform. SAP® solutions into Value
Consultant, Change, Release, Management, Application, Solution, Advisory, IT, Englisch, IThanse.de, Empfehlungsbund
This Job resp. positions as 'SAP ALM Consultant - Change & Release Management in SAS Application & Solution Advisory (f/m/d)' is vacant in following addresses: 30159 Hannover bei/in Region Hannover in Niedersachsen, 20097 Hamburg , 37081 Göttingen in Niedersachsen, and 26135 Oldenburg bei/in Kreisfreie Stadt Oldenburg in Niedersachsen.
Brief profile of NTT Data Business Solutions Global Managed Services GmbH
Empowering you – to break new ground!
Wir wollen mit Weitblick und Innovationskraft die Zukunft gestalten. Sei dabei und entfalte Dein volles Potential!
Als Teil der globalen NTT DATA Gruppe, einem der erfolgreichsten IT-Dienstleister der Welt, sind wir als NTT DATA Business Solutions auf wertschöpfende SAP-Lösungen spezialisiert. Mit über 11.500 Mitarbeitenden in über 33 Ländern designen, implementieren und entwickeln wir passgenaue SAP-Lösungen und Managed Cloud Services für unsere weltweiten Kunden.
Als Full-Service Provider bieten wir unseren Kund*innen ein umfangreiches Portfolio in den Bereichen  SAP Consulting, SAP Development, Managed Cloud Services sowie Application Management Services (AMS) & Technology und unterstützen diese weltweit bei der digitalen Transformation.
Seit der Gründung im Jahr 1989 sind wir rapide gewachsen und bereits seit 2008 gehören wir zum Konzernverbund der NTT DATA. Um am Markt auch als "one NTT" aufzutreten, wurde zum 1.4.2021 auch unser Firmenname von itelligence Global Managed Services GmbH in NTT DATA Business Solutions Global Managed Services GmbH umbenannt. Ansonsten bleibt alles wie gehabt – sowohl organisatorisch, personell als auch inhaltlich.
Möchtest Du den nächsten Karriereschritt machen und Teil unseres hochqualifizierten Teams sein?
Are you ready to break new ground?
Wir freuen uns auf Dich!
Innovativen Menschen bieten wir die Möglichkeit, ihr Potenzial bestmöglich einzusetzen und sich dabei weiterzuentwickeln. Dafür gibt es spannende Einstiegsmöglichkeiten im SAP Consulting, SAP Development, Managed Cloud Services und Application Management Services (AMS) & Technology.
Uns interessieren Menschen (f/m/d), die Neugier und eine schnelle Auffassungsgabe mit einer hohen Lernbereitschaft verbinden. Zukünftige Kolleg:innen sollten ein Faible für die Verknüpfung von Prozesswissen und technischem Know-how mitbringen sowie Spaß am Umgang mit Menschen und unterschiedlichen Persönlichkeiten haben.
Neugierig geworden? – Dann schau Dich gerne auf unserer Homepage genauer um oder suche auf direktem Wege nach Jobs unter:  https://nttdata-solutions.com/de/karriere/
In unserer Stellenbörse war keine passende Ausschreibung für Dich dabei? Macht nichts! Bewirb Dich gerne initiativ bei uns. Schicke uns deine Bewerbungsunterlagen und wir prüfen eine passende Einsatzmöglichkeit.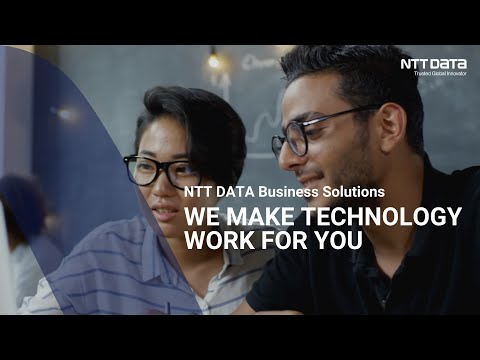 Publication date: 26-02-2023